Beach Bags Trends
Summer is the best time to be creative and bold when it comes to your wardrobe and accessories. And, unquestionably, the star of the season is the beach bag. This isn't just an ordinary item meant to carry around all your swim essentials, but also a fabulous accessory that can complement your outfits allowing you to always be prepared to head off to the shore at a moment's notice. Let's face it! A cute and totally chic bag is everything you need to feed that charming summer spontaneity
Of course, you need to know what the latest trends for beach bags are in order to always show off a very stylish model. Nowadays, beach bags aren't just straw or raffia. These are more original than ever with their leather accents, colorful pom-poms, tropical details or bamboo handles. Whether you are planning a tropical vacation, running around town with errands, spending all the time at the local beach or changing your look to a summery work one, you definitely need the right beach bag for the job. Believe me when I say that picking the proper one is a crucial decision this summer. How could we pull it off this season without a stylish beach bag capable of making us look fashionable and carrying around all our beach necessities? Below we list a few of the most popular 2015 beach bags trends.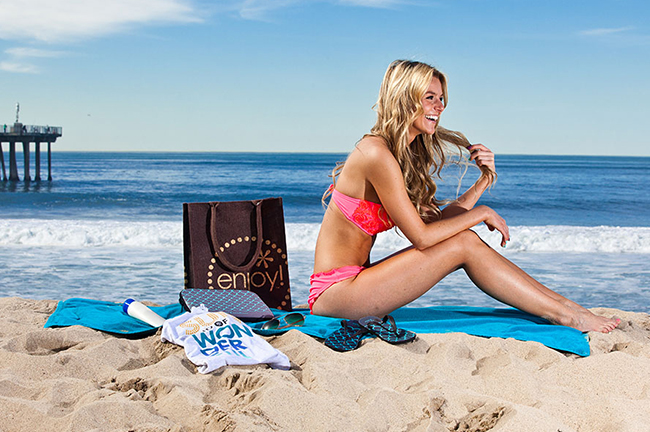 Beach bags with leather accents
This is the perfect choice for those of you who need a bag perfect for any occasion or moment of the day. This summer, any straw beach bag that has a few leather accents looks perfect even at the office, especially if it is a tote style.
Clutch beach bags
Another great version of the 2015 beach bag is the clutch style one. By having considerably low sizes and being so functional, a clutch beach bag is easy to carry around and looks terrific both with your beach clothes or regular town outfits.
Beach bags with colorful pom poms
This season, pom poms are a thing, even when we're talking about beach bags. No matter if these are big or tinny, when you see a stylish beach bag with lively pom poms applied, don't hesitate. Buy it and start mixing and matching it with your best summer clothing.
Beach bag with bamboo handles
Bamboo handles are usually used for luxury bags, but no one could deny that it represents the perfect addition for fashionable and chic beach bags. Some of the most impressive models launched by designers are tote bags made from colorful canvas and enriched with bamboo handles.
Oversized beach bags
All women dream of having a stylish beach bag that fits everything. Luckily for us, this year, oversized beach bags are a thing, especially in neutral colors. Hannah Handbags reminds us that when it comes to a purse in an extra-large size; we mustn't exaggerate with bold patters, crazy colors or tacky embellishments. We should keep its materials, design and colors as simple as possible. This will guarantee a stylish look.
Beach bags with tropical details
Do not underestimate the power of a well-chosen tropical detail. Designers have impressed fashionistas from all around the globe with a mutual fascination for beach bags that feature tropical inspired details in exotic colors, such as flamingo birds, palm trees and flowers.
Beach bags with geometric patterns
It is no surprise that geometric patterns are still in trend when it comes to beach bags. In 2015, the best mix for a gorgeous beach bag is a simple geometric pattern in bold colors. It looks very cute and chic.
YOU MAY LIKE