Quiksilver New Arrivals
Quiksilver women's line Roxy has been preparing a number of new arrivals for this summer concerning beachwear. The amazing new and interesting picks will surely spark your interest and keep you chic and pretty this summer.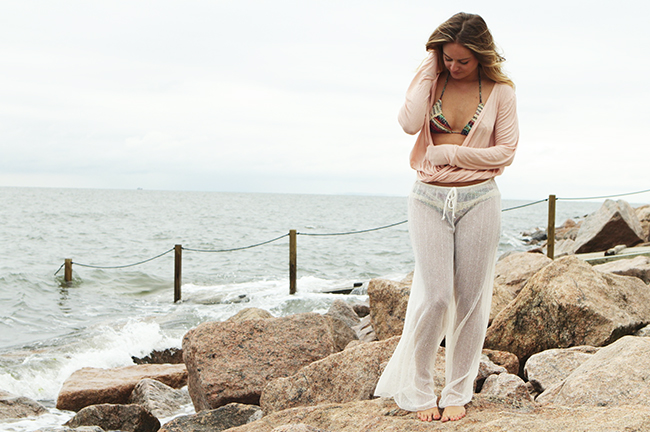 The first thing that we have to take a look is the beautiful Bohemian Sunrise Bandeau Bikini Top and bikinis, an excellent choice if you are going for the hippie-bohemian look. In the same range and theme, we can also find the Color Me Badd Top and Bottom along with a version of Color Me Badd of side tie bikinis if you prefer your combo to feature them.
For one piece beachwear the Girls Just Wanna Have Fun is the perfect way to feel elegant, even at the beach. It has a beautiful classic line to it and will certainly please any woman who wants something simple and chic.
Some of the wet-suites on their websites are also new additions to this season's beachwear and if you are interested in surfing you should check out the simple black ones or the ones that ooze more personality through their interesting colors.
As a great way to start summer, Roxy offers a wide range of comfortable casual pants that you absolutely must check out. The pretty Oceanside printed pants that come in modern colors or the Big Springs Harem Pants are just a few of the options you should consider when looking for something that looks good and feels good. Make sure that you also take a look at the Sunday Noon Harem and the interesting Diamond Leggings.
Since you are at the beach a pair of flip flops is always welcome so the brand has prepared some pretty ones like the Tahiti Sandals or the more elegant Riviera Sandals. If you want something colorful you will love the Kiwi and Mimosa Sandals as well as the Elm ones. For more elegant footwear, sandals are definitely more suited than flip flops and we can certainly pick some really interesting ones from the 30 models of sandals that are on their website. The newest and best sellers are the Chia, Theia and Marsella Sandals. Their lines are simple and they are extremely comfortable to wear.
When it comes to dresses, there are quite a few suitable for beachwear that you can consider. Some of the favorites are Spraks Fly Tank Dress and the beautiful Savage Strapless line of dresses.
YOU MAY LIKE