Quiksilver Roxy 2015 Swimwear
Quiksilver is an Australian brand that offers beachwear and other sports relating clothing items. The main brand, Quiksilver only offers a few items for women, concentrating more on its male shoppers. However, the brand has created two small projects, Roxy and DC Shoes, one catering to women only (Roxy) and the other offering attire to both sexes and all ages. Since the beach season is here, the brand offers a wide array of items that are sure to come in handy during your vacation.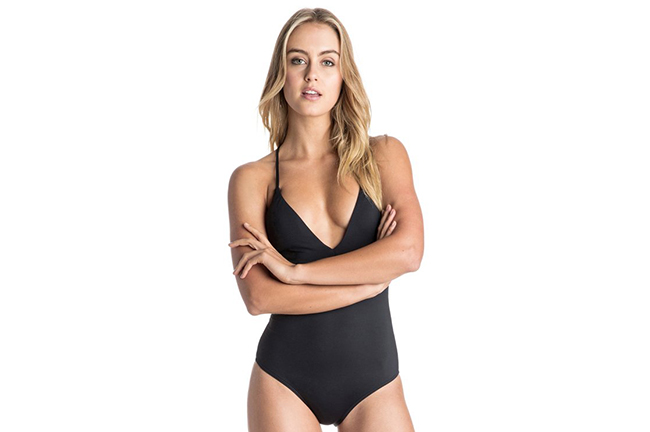 If you are looking for a once piece swimsuit that has something unique about it, the lovely Tides of Way in Mazarine Blue has a distinct cut that will certainly make you look absolutely adorable. For a similar feel you should also check out the fabulous Bohemian Sunrise and Midnight Swim Hatter. They are all interesting picks for someone who wants to maintain their unique style even while they are on the beach.
For those who like to have something classy, clean cut and a no-nonsense bathing suit the Wrapsody Deep V One Piece Swimsuit comes in two colors, a beautiful coral red and black. If you want to maintain that classy feel but with a more modern cut, the Girls Just Wanna Have Fun is a perfect way to keep your interesting style with you at the beach; it comes in two classy colors, faded blue and black.
For a feminine feel, the lovely Road Less Traveled Halter One Piece Swimsuit is a great addition to your wardrobe as it features two fabulous colors: Egret and Very Berry.
The two pieces suits don't have to be the same; you can buy the bikinis and the tops separately and create your own unique style. For example, you can pair up the lovely Tides of Way Tie Side Mini Bikini Bottoms with the beautiful and quite stylish Tides of Way Crop Halter Bikini Top. If you want something that is already paired, you should opt for the dreamy Coastal Switch Monokini. Another fabulous combination that you should definitely try is the Lacy Days Underwire Cami Bikini Top with the same patterned Lacy Days Tie Side Bikini Bottoms, both in a deep turquoise color and white.
The brand also offers a wide variety of board shorts and some are made from recycled plastic bottles so they are extremely sustainable. You can also buy a wide range of interesting cover-ups for those cold nights that can happen at the beach or for when you don't particularly want to change your swimsuit and want to go for a walk.
YOU MAY LIKE