Creative Ways to Cover Up at the Beach
Usually we invest a lot of time and thought when we're choosing a swimsuit for the beach, but what about the cover up? We should never ignore what goes over our stylish swimwear. In 2015, cover ups are more important than ever. And the focus is on choosing innovative pieces that can complete our beach outfit and offer a sophisticated and fashionable look.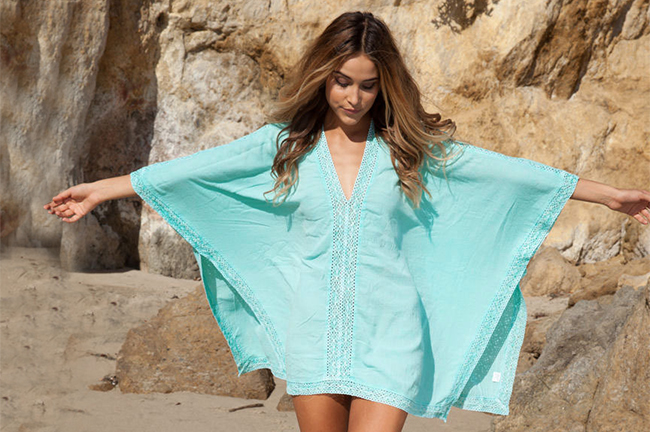 The Shirtdress
Shirtdresses are very comfortable and fresh, just the right choice for a day at the beach. When opting for this style, you should consider a silky dress with pointed collars, short hem length and front pockets. To turn it into a unique and stylish beach statement, make sure it has a modern print, such as a leopard or tropical one.
The Maxi Dress
Maxi dresses are wonderful when it comes to taking a long walk at the beach or having a few cocktails on a beach side café. Just think of a casual, but cute leopard print infused maxi dress. And then add a wide brimmed hat, chic sunglasses and comfy flat sandals. What better way to catch the ocean breeze on a warm day?
The Tie-Dye Dress
If you prefer a bohemian vibe then you should go for a spaghetti strap tie-dye full length dress with a graphic print. This will make you look utterly sexy and daring, and it will get you everyone's attention while you're on the sand. To take your beach look to the next level, you can even try a dainty gold chain or a chunky statement necklace.
The Fringed Poncho
I know you weren't expecting this, but a poncho is a very stylish choice for the beach. In 2015, the coolest trends invite us to wear an oversized fringed poncho.  The best part about it is the beautiful peek-a-boo details that allow others to catch just a glimpse of the fashionable underneath bikini.
The One Shoulder Maxi Dress
Everyone agrees that this summer, wearing a tribal-inspired one shoulder maxi dress is the most popular trend. Think of this style and then of oversized sunglasses, a big floppy hat and an elegant necklace. This cover-up is everything you need to feel comfortable at the beach and accentuate your chic appeal.
The Printed Sarong
The sarong is the traditional beach cover up. This very modest sized piece of material is designed to be tied around our hips. It looks great with a sexy one piece swim suit, a brimmed hat and trendy sunglasses. And the printed sarong isn't the only style that is hot this year. If you prefer a more youthful and fun variation of the classic sarong then you can choose one that has beautiful embellishments. The most popular models are the ones that have silver coins at the hems.
YOU MAY LIKE