Beautiful Beach Dresses
Summer is the best time to show off your great personal fashion sense. During this time of the year designers are more creative than ever and they launch wonderful trends that inspire you to be creative and bold when it comes to your style choices. And the beach is no exception. With the right dresses you can stand out at the beach and impress everyone like a real fashion guru. Below we will present some of the best beach dresses trends for the summer of 2015.
When you hit the beaches you should always look trendy with a fresh, breezy dress. No matter what you choose, it must be a perfect blend between comfort chic and original design. Everyone goes to the beach to have fun, to relax and get a large dose of optimism. This is what your dress should also reflect. It should be casual, but fun; laid-back, but original. No doubt about it, when your dress vibrates of lively colors, fresh patterns and feels light and airy you will be more enthusiastic and happy than ever. Your beach dress should always look modern, stylish and joyful.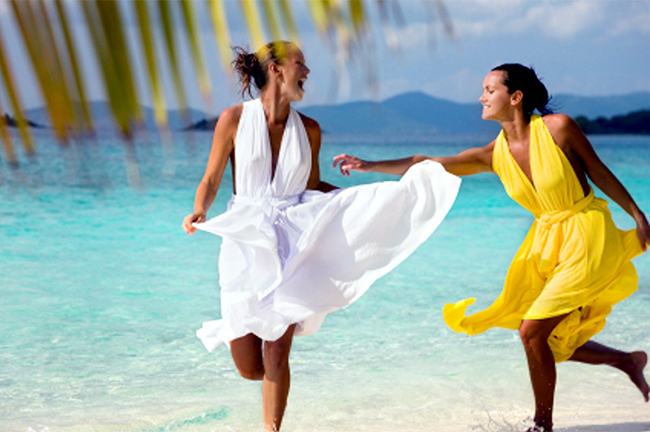 Colors and Prints
Color plays a very important role in choosing the right beach dress. There are endless possibilities and variations for the color of a beautiful beach dress. If you want to opt for a more sophisticated and elegant beach look then you should consider a block color dress in hues of aqua blue, navy, purple, yellow, pink or green. If patterns are your passion then please note that in 2015 tropical patterns are very trendy. A cute sheer dress with a print that features some exotic birds, animals or palm trees will surely turn heads. Also, designers are recommending printed oversized images that create a hypnotic effect.
Retro chic
In 2015, one of the most popular trends around is inspired by retro influences. If you remember the look of pinup girls and the dresses they used to wear then you know what to expect from this trend. The shape of the dress must be feminine, fit on the upper part of your body and flowing in ample waves towards the knees. You should pick some fluid and light materials that offer you more freedom of movement and extra comfort.
Sophisticated asymmetries
Asymmetrical dresses are very popular this summer. When you're heading to the beach, consider a dress that has fascinating asymmetries either on the top part or on the skirt's hem. But do not forget that you should balance the whole look of the dress by choosing it in a single color. If you pick an asymmetrical beach dress with an extravagant print then it will be just too much. Don't overdo it. Keep things simple.
Classic white
This is a timeless beach classic. A short flared white dress is perfect for the beach. Such a model is wonderful because it does not have any distracting lines, colors, patterns or embellishments. Plus, you can really style up your look by adding classy and colorful accessories.  But the greatest thing about wearing a white beach dress is that it enhances the beauty of your new acquired tan.
YOU MAY LIKE