Sunglasses Treds
The sunglasses you are wearing say everything about your fashion personality. And in 2015, if we take a look at the latest sunglasses trends we discover enchanting inventions of new forms, creative colors and bold mixes. This being said, what better way to kickoff summer than with a beautiful and stylish pair of sunglasses? This year, at the beach we will be seeing modern styles that feature bright color accents, reinvented iconic frames like white cat eyes and original prints.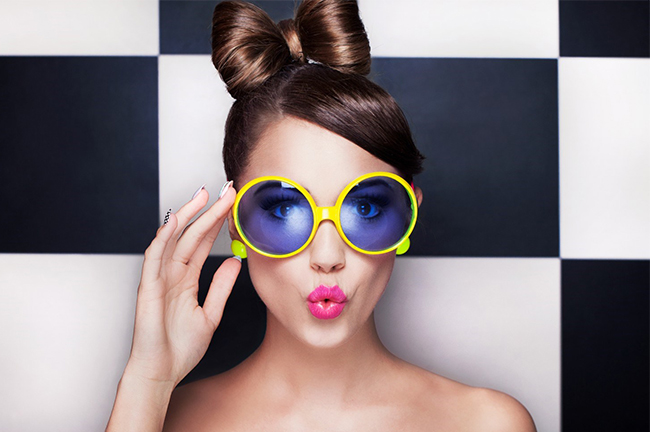 Bright Lenses
Of course, summer means colors- lots of them- and sunglasses are the best way of adding some enchanting color accents to your beach look. The most stylish shades for this season are yellow, plum, blue and orange. The brighter the color is the more interesting your look will be.
Lively Frames
Having just colorful lenses isn't enough this summer. You should also opt for a pair of sunglasses with bright colors or interesting patterns on the frames. From what the 2015 catwalks show us, the trendiest shape for colorful frames is the round one.
White Frames
If you prefer classic looking sunglasses then you will be delighted to find out that this summer, some of the best beach sunglasses styles are the ones with white frames. The trick here is to opt for creative shaped frames, like the sassy cat-eye one or squared shaped frames.
Oversized Sunglasses
One of the most comfortable styles of sunglasses is the oversized one. The huge advantage of these is the fact that they cover the eyes and the areas around them. Besides the fact that they accentuate your personality, this choice offers you extra sun protection.
Retro Influences
One of the most fascinating comebacks is the reinterpretation of the sunglasses worn in the '60s and '70s. This style offers a very feminine and glamorous touch to your beach look, it accentuates how fresh and original your personal style really is.
Oval Frames
A very interesting and modern shape for sunglasses is the oval one. This absolutely cool and stylish form has got our full attention and represents one of the hottest trends for 2015 beach sunglasses.
Square Frames
This year, it is all about interesting new shapes. Sunglasses aren't just round or oval. These can be square-shaped as well. The way this form changes your whole look is impressive. If you want to impress at the beach then don't miss out on this fabulous and creative trend.
Semi-Rimless Sunglasses
The new direction for 2015 is to wear sunglasses that are only half framed or that have a gap between the two lines of frames that go above and below the lenses. This fresh and modern trend is very popular this summer.
Ombre Effect
Ombre has some of the catchiest and beautiful interpretations this summer and it is probably the best choice for a day at the beach. Opt for these style and you will look like a true diva.
YOU MAY LIKE