Why You Shouldn't Wear Flip Flops This Summer
The weather is getting warmer by the day and this makes us dream about long days spent at the beach, beautiful tans, swimming in the blue waters and wearing our comfy flip-flops. I know, these are the most comfortable thing you could wear during summer, both at the beach and in the city. But don't! Do not wear flip-flops, not even at the beach. This year, this option is out of the question. Experts are horrified by the thought. There are so many stylish alternatives that you could wear at the beach that it is not worth ruining your fabulous beach outfits with such an unaesthetic choice. Besides the fashion considerations, there are numerous other reasons for not wearing flip-flops.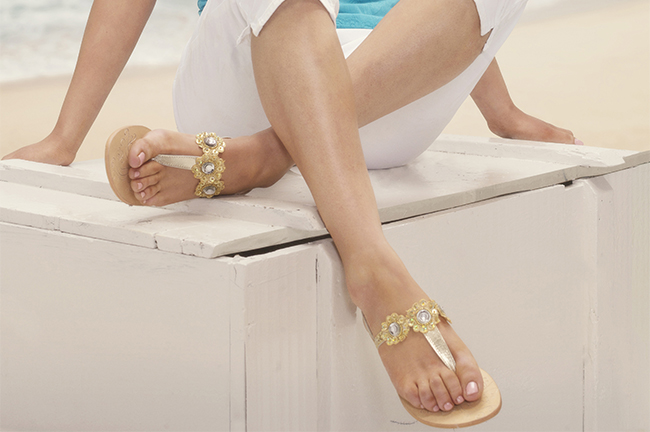 Flip-flops slow you down.
Even though flip-flops may feel comfortable, the truth is that our feet are not that happy about wearing this type of shoes. Studies show that these affect the way we walk; they make us take smaller steps than while wearing sneakers. The result is a slower walk.
Flip-flops are out of style
Style experts remind us that flip-flops aren't trendy anymore. A couple of years ago, you could see women wearing these at the mall, at work, in parks or at the beach. Flip-flops were everywhere, but that trend is totally over and now, not only, you cannot wear these in the city, but they are a big NO even at the beach. These days, style isn't all about being comfortable. It is about a careless chic. You need to look sophisticated and somehow casual without dressing too sloppy or to pretentious. I know, it may sound harsh, but it is what it is. If you want to look good this summer then you should really stay away from flip-flops.
There are so many other stylish options
Yes, you really have numerous other options for wearing comfortable shoes at the beach. Instead of picking the old fashioned and boring flip-flops why not opt for a fashionable pair of flat sandals? Even a pair of gladiator sandals is an acceptable choice when you're heading to the beach, as long as these are light and easy to take off. Half hour spent taking your shoes off can really kill your whole beach enthusiasm.
It's difficult to mix and match them
No matter how much you try, it is difficult to get a stylish and chic look when you're wearing flip-flops. No matter what clothes you put one; the whole outfit will look too casual and too loose for the office, for a coffee or even for shopping.
Flip-flops are noisy
You have to agree with me on this topic. Flip-flops make the most obnoxious sound in the world. When you're wearing them, you're leaving behind a trail of noisy bread crumbs. Unquestionably, head will turn, but not because you look glamorous. It will be because they will be wondering "Who is making that awful flip-flop sound?"
They can permanently damage your toes.
By wearing flip-flops you force your toes to work really hard to keep the shoes on your feet. In time, this can cause hammertoe- when the knuckles of your toes bend. Strappy sandals are a healthier and more stylish choice. BTW, this summer, sandals in citrus colors are really hot at the beach.
YOU MAY LIKE