Stylish 2015 SwimWear Trends
Each summer, what we wear is influenced by what designers anticipate as being the hottest trends, the fashion choices that any woman would love to show off at the beach. For 2015 they have prepared for us whimsical patterns and colors, futuristic cuts, innovative shapes and surprising color vibes. If you want to look utterly glamorous at the beach then you definitely need the right suit for the job. This is why we have prepared below a list of the most fabulous 2015 Swimwear trends.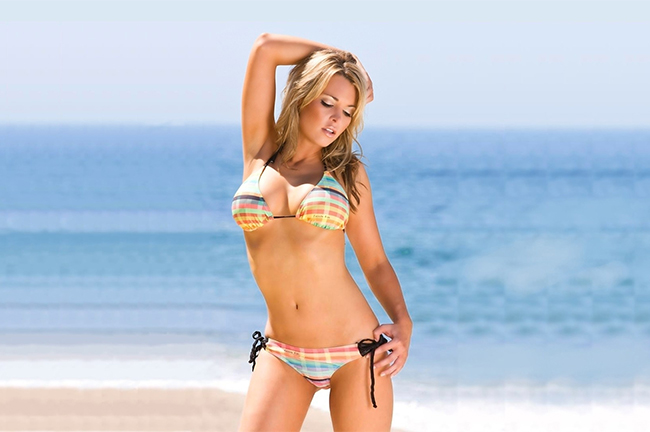 Printed Swim Suits
Who doesn't love to try new and exciting prints and patterns, especially at the beach? This is the best way to stand out when you're under the bright sun and the beach is full of joyful people. This year, on top of the list we find the 3D patterned and printed swim suits which have very unusual sizes for the printed photo. This makes the whole outfit look interesting and fabulous.
High Neck Crop Tops
The high neck crop top style is one of the most interesting styles we have seen on this year's catwalks. Even though this trend is very fascinating and new, it has the downside of not offering such a perfect tan to his wearers. It is an excellent pick for the days when you want to impress with your exquisite fashion sense and don't care that much about getting a tan.
Longline Tops
No question about it, a longline top is excellent for showing off your feminine charm and cuteness. Unfortunately, it won't help you get that nice and even tan that we so desperately want to achieve. There are many variations for this style, but the best ones are by far- the asymmetrical ruffled longline top, the retro motifs longline top and the horse patterned longline top.
Long-Sleeved Swim Suits
Yes, this summer it is all about extravagance. And long sleeved Swim suits are very cool no matter if you're heading off to the local beach or to an exotic holiday. These original swimwear outfits are meant for those who love to look modern, sophisticated and glamorous.
Retro Swim Suits
Who doesn't love retro influences? We adore them so much that we want to see them even at the beach. So when you're bikini shopping, make sure you are on the lookout for those stylish high-waisted bottoms. These are inspired by the charm of the '60s, offer you a better coverage and are a very fashionable option.
Sporty Chic Swim Suits
Good news this year! Sporty chic is back in trend. Expect to see numerous sporty chis swim suits this summer that are decorated with cut neoprene materials, creative zips, interesting slogans and much more. The diversity is really impressive and the clear advantage of this style is the ability of nicely balancing comfort with style.
Sheer Swim Suits
Forget about you prejudices. Mesh and sheer materials, no matter how revealing they may seem are not considered vulgar this year. These aren't the best choice for a day at the beach, but may be just the thing you need for a nighttime poolside party.
YOU MAY LIKE